How many genre of music is available in Spain?
There are several genres of music that are available in Spain. Putting an actual number to it could be difficult, as there are some genres that are not popular but exists. Furthermore, new genres are been regularly developed by musicians, based on a number of factors, especially influence on a particular genre of music by a different. Some of the most popular genres of music in Spain include flamenco, ye-ye, rumba, pachangueo, movida, cuple, copla and techno.
What genre of music is the most popular in Spain?
Spain has a lot of popular music that picking the most popular could be contentious. Flamenco however currently has the reputation of been the most popular for a large number of people. In some cases, individuals have erroneously interchange flamenco with Spanish music. Even though flamenco is Spanish music, there are other types of Spanish music apart from flamenco. Another very popular music type in Spain is the jota, with several regions, having their own local version.
Do I have to understand the Spanish language to enjoy Spanish music?
Yes and no. Yes, because you will tend to enjoy the music of any country more if you understand the lyrics of the song. When you don't know how to speak the Spanish language you will not know the meaning of what is been said, except you have an interpreter. You will, however, have the chance to enjoy the melody of the song and the sounds from the accompanying musical instruments.
What is the easiest way to learn the Spanish language?
There are a lot of ways to learn any language including the Spanish language. If you are looking forward to learning the language as soon as possible, then you should watch Spanish movies that have subtitles in a language you can read fluently. You should also get 'how to learn Spanish books', starting with one for kids. You can subsequently go for the more advanced ones as you improve. The use of flash cards and going to spend a couple of weeks or months in Spain is also a great way to learn the language.
What factors make Spanish music popular?
There are several factors that have led to the popularity of Spanish music all over the world. First, Spanish music started very early and have been improved upon over time. This has given Spanish music the opportunity to influence music of some other areas, especially in Latin America. First there are a lot of genres that you will surely love 1 out of the 3 genres you listen to. Furthermore, their unique musical instruments and dances also go a long way to add fun to the music.
How can I learn to play the Spanish guitar?
The Spanish guitar could be difficult to learn except you truly love the flamenco sound and you are highly motivated. You will also require an expert Spanish guitar, preferably a local one to teach you. You might therefore have to travel to Spain to get the right teacher to coach you, if you are out of Spain. Alternatively you could get DVD tutorials or download tutorials from the internet.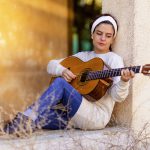 Spanish music has over the years been a very important part of European music as it played a vital role in western music development. It was also a major influence on the music in Latin America.